Experience the beautiful sounds and emotional expressiveness of Brian Lally's classical guitar performances.  Perfect for weddings, parties, fund-raisers, and social events where delightful music is the essential requirement, Brian's exquisite touch stimulates, soothes, and inspires.


Brian's past engagements have included a live on-air performance on 102.5 KZOK FM, in-concert performances at the Seattle Arts in Nature Festival, the Northwest Faerie Festival, and the Seattle Museum of the Mysteries, and weekly performances at the 4th & Madison Building in downtown Seattle for four-and-a-half years.  Brian has a B.A. in music from Western Washington University and has also studied in masterclasses with the Falla Guitar Trio and Larry Coryell.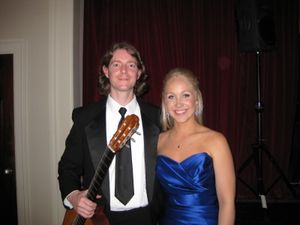 Brian is committed to ensuring your satisfaction.  He meets with all wedding clients in person prior to the event to help with the selection of music.  Wedding performances can be structured in any way desired, but generally include twenty to thirty minutes of prelude music prior to the ceremony, a processional and a recessional.  

                                                                      
Here is some feedback from past clients:


"You were spectacular at our wedding.  We very much appreciate your time and talent to make our ceremony just beautiful!  Many guests commented on how wonderful you played.  Thank you again for playing for us.  We can't wait to hear the songs on CD!"

--Joy and Rich R., Redmond, WA



"Thank you for the beautiful music and for all of the arranging that you did for the songs.  It was beautiful."

--Gretchen H., Seattle, WA


Brian's solo guitar repertoire includes classical, Spanish, Brazilian, pop, holiday favorites, and arrangements from a variety of other styles.  


Brian is also a member of Seattle local 76-493 of the American Federation of Musicians.


For rates please contact Brian by phone or text at (206) 262-0595, or by e-mail at info@briantlally.com.